The Greenpine Gym is the official Gym of Greenpine City. It is based on Grass-type Pokémon. The Gym Leader is Bailey. Trainers who defeat him receive the Nature Badge.
Appearance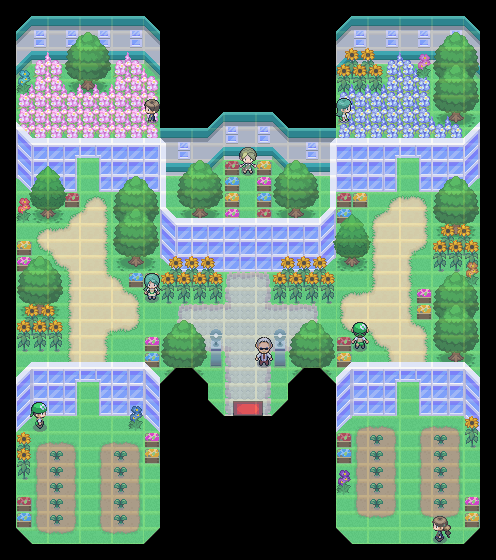 Trainers
Trainer
Pokémon

Gardener Walda
Reward: 1200

Gardener Garwin
Reward: 1200

Ace Trainer Fortesa
Reward: 1300

Ace Trainer Ford
Reward: 1300

Gardener Haidee
Reward: 1200

Gardener Foster
Reward: 1200

Trainers with a telephone symbol by their names will give their

Pokégear

number to the player, and may call or be called for a rematch with higher-level Pokémon.
Reward:

4500
Items
Item
Location
Antidote
From Clyde at the entrance
TM103 (Leaf Darts)
Reward for defeating Bailey
Trivia
The distance from the fifth gym in Highpoint City to the sixth gym here is the largest distance between official gyms in any Pokemon game.
Ad blocker interference detected!
Wikia is a free-to-use site that makes money from advertising. We have a modified experience for viewers using ad blockers

Wikia is not accessible if you've made further modifications. Remove the custom ad blocker rule(s) and the page will load as expected.